There are several reasons why a website may not be showing in Google search.
The most common reason is that the website is new and Google simply doesn't know about it yet.
In other cases, technical problems or content issues may be preventing the website from being accessible by search engines.
Here are 11 things to do if your website isn't showing up on Google search.
1. Check if it is indexed by search engines yet
It is very simple to check if your website has been indexed by Google by typing "site:yourdomain.com" into the search box.
If your site shows up in this search, it means that Google has already indexed it. In other words, Google knows that your site exists, even though it may not be ranking for any popular search terms yet.
But if your website hasn't been indexed yet, you will see something like this:

If there is a single page that isn't showing in Google, then try searching for the exact URL of that page. If the page shows, that means it is indexed.
There is no need to worry if your website is new and it hasn't been indexed yet.
It takes time for search engines to update their search results, sometimes a week or more.
Also, if your website doesn't have many inbound links, then Google may not even know that it exists.
To get your website indexed, create an account in Google Search Console and ask Google to crawl and index your site.
2. Submit your site via the Google Search Console
The fastest way to get your website to show up is to tell Google about it via the Google Search Console.
You simply create an account for your domain and then upload an XML sitemap to the search console.
An XML sitemap is a file that lists all your most important posts and pages. It is easy to create an XML sitemap with a free SEO plugin like the SEO Framework.
After you have created a search console account and submitted the sitemap, Google should crawl your website and then index it in the next few days.
Make sure to check the search console reports again in a few days. If Google has any problems accessing your site, then it will tell you about it via the search console.
Here's a detailed guide on submitting your site to Google Search Console.
When you need to index an individual page, you can use the "Inspect Url" tool inside the search console.

If you have a local business, such as a shop or a restaurant, create an account with Google My Business. This can help your site show up in both search and Google maps.
It's also worth adding your site to Bing and Yahoo.
3. Make sure your site isn't blocking search engines
There are some settings that can cause a website to be completely inaccessible to search engines.
The most common are the robots.txt file and the noindex meta tag.
Robots.txt
Check your robots.txt file by adding /robots.txt to the end of your domain (such as example.com/robots.txt).
If you see this code, it means your site is blocking all search engine robots:
User-agent: *
Disallow: /
In that case, remove the "/" symbol to make your site accessible to all search engines.
If in doubt, then simply keep your robots.txt file exactly like this to allow all search engines and web crawlers:
User-agent: *
Disallow:
It is fine if your robots.txt file is empty or if you don't even have the file. Search engine crawlers will see that as allowing them to crawl your website without restrictions.
Noindex tag
If your site has the noindex meta tag in its code, then search engines won't index it.
Go to your website, right click the mouse and click "View page source" — if you see the code below anywhere, then that means your site is noindexed.
<meta name='robots' content='noindex,follow' />
In that case, you need to figure out how to remove the noindex tag.
If you have WordPress, go to Settings -> Reading and make sure that you aren't blocking access to search engines.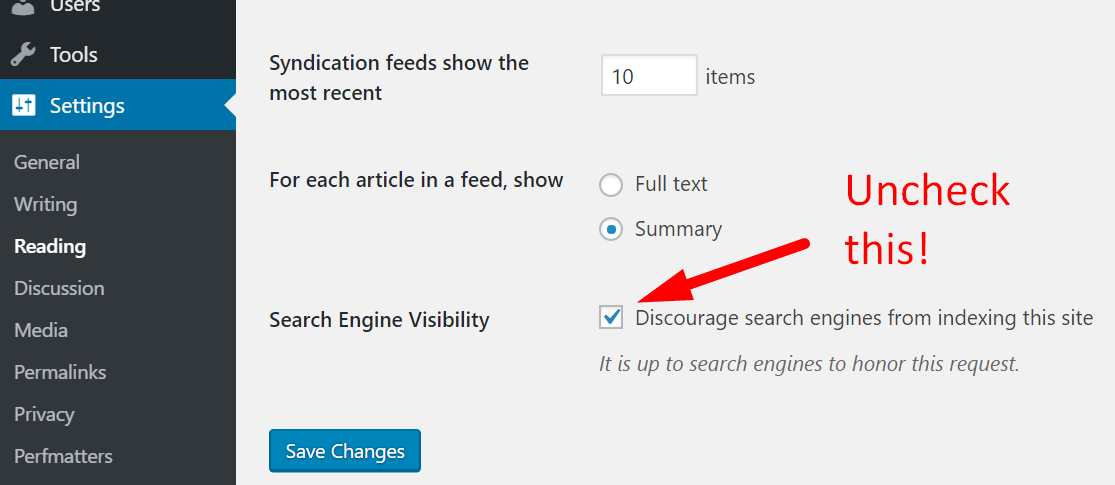 If you have an SEO plugin, go through the settings to make sure that you aren't blocking search engine robots.
4. Check if your site is accessible everywhere
It is possible that your site isn't accessible everywhere.
First, check your site on your mobile phone to make sure that it is accessible and fully functional on a smartphone.
This is incredibly important because Google's index is becoming mobile-first. This means that they use the mobile version of your site in their index.
If your website doesn't work on mobile, then that could cause it not to be shown in Google.
To check if your site is accessible from different cities all over the world, use this free tool.
5. Get rid of content problems on your website
Google may decide not to show your site in the search results if it thinks you have low-quality content.
Here are some examples of content problems to avoid:
Little or no text: If your pages have little or no text, then search engines may not be able to understand them.
Duplicate content: If most of your content is copied from other sites, then Google likely won't show it.
Spammy content: Google does not want to show spam sites or spammy content in the search results.
Having high-quality content is not only important to get indexed. It is also the single most important factor to start ranking for popular keywords that drive search traffic.
6. Check if your domain has a manual penalty
In some cases, Google will outright penalize a website if it sees abusive behavior.
This can be in the form of a manual penalty, in which case people working at Google manually place a penalty on your domain.
If there is a manual penalty on your site, then you will get a message in Google Search Console under the "Security & Manual Actions" tab.
7. Make sure to include keywords in your content
Having high-quality content is crucial, but it won't get you very far if Google doesn't understand what your content is about.
For people to discover your content through Google search, then you need to use the words and phrases that people type into Google when searching.
Make sure that your keywords are included in some form in your title, headings, and text. Also, have clear titles and meta descriptions that accurately describe what your content is about.

In fact, the titles and meta descriptions are what people see when your site shows up in search. If people don't understand what your topics are about, then Google won't either.
You can use free SEO plugins like the SEO Framework to add titles and descriptions in WordPress.
Then you can use keyword tools like Keywords Everywhere (free) and SEMRush (paid) to find popular keywords that people search for.
8. Try targeting keywords that are less competitive
Not all keywords are created equal.
Some keywords have incredibly high competition, with multiple high-authority websites trying to rank for them.
Other keywords have little to no competition and you may be able to rank for them even if your site is relatively new.
Generally speaking, shorter keyword phrases with fewer words have more competition than longer phrases with more words.
For example, "dog food" is a very competitive keyword, while "best food for labrador puppy" has little competition and should be easier to rank for.
If your pages aren't showing up on Google for the search terms you are targeting, it may be because you are targeting keywords that are simply too competitive.
9. Make your website faster
Google wants websites to be fast. If your website is very slow then Google may not want to show it in the search results.
The best tool to check your site speed is Google PageSpeed Insights.
Enter your home page and a few internal pages into the tool to see if you are having problems with page loading times.
You don't need to get a perfect score, but if Google sees your site as being way too slow then it can be a problem.
10. Get some links to your site
Having some links to your site is important, especially if you are targeting keywords with high competition.
If your site isn't showing up on Google, then it may be because it doesn't have any inbound links.
Try linking to your site from your social media profiles and other websites that you may own or work with.
You can also reach out to people who you think might be interested in linking to your site.
11. Optimize your website for SEO
SEO stands for Search Engine Optimization. It is the art and science of making your website rank higher in search engines like Google and Bing.
If you want to get search traffic to your website, then you should spend some time learning about SEO.
In reality, SEO encompasses everything related to making great websites with high-quality content that answers people's search queries.
Reading this article on the 10 core seo principles to follow is a good place to get started.
12. Anything else?
Have you tried all the suggestions above and your site still isn't showing in Google?
Leave a comment below with the URL of your site and I will check it out personally.