Yandex is a Russian company that is best known for its Yandex search engine.
This is a search engine that was originally started in Russian at yandex.ru, but now has a global English version at yandex.com.
Yandex is the biggest search engine in Russia. According to Statcounter, they had 48.79% market share in Russia in July 2019, compared to Google's 47.88%.
What is Yandex?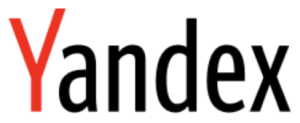 Yandex N.V. is a Russian multinational internet company.
It is the biggest technology company in Russia and offers many different types of products and services.
They are best known for owning the biggest search engine in Russa, but they are also involved in many other things related to technology and the internet.
These include:
Online advertising
Email services via Yandex.Mail
Ride hailing via Yandex.Taxi (in collaboration with Uber)
Self-driving cars
Maps via Yandex.Maps
App analytics
Data management
Smart home technology
A voice assistant called Alice
A web browser called Yandex Browser
Music streaming
eCommerce
Artificial intelligence
And many more…
Yandex was founded in 1997 by Arkady Volozh (current CEO), Arkady Borkovsky and Ilya Segalovich. The name is derived from the phrase "Yet Another iNDEXer."
The company had an IPO in 2011 and is now publically traded on the NASDAQ in the US, with the ticker symbol YNDX.
At the time of this writing, they have a market capitalization of $12 billion.
In 2018, Yandex had a global revenue of $1.85 billion, which was a 13.52% increase over 2017.
You can read more about the company on their about page. Then there's more info about Yandex's financials on Stockrow and their investor relations page.
Bottom Line: Yandex is a Russian internet and technology company that operates the most popular search engine in Russia. It also offers various other internet-related products and services.
The Yandex search engine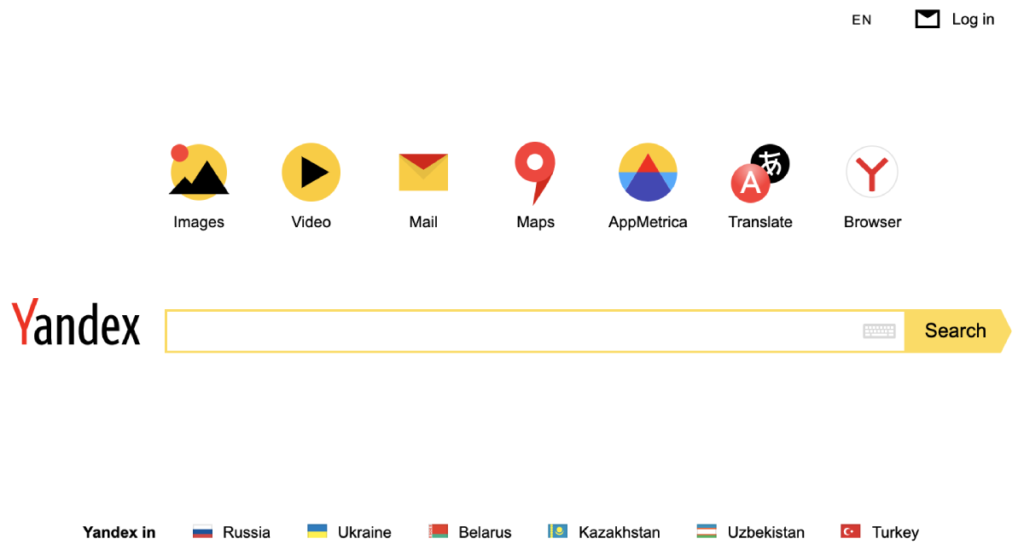 Yandex functions mostly like the other popular search engines.
You type in a search phrase, hit enter and then you see a search results page with a bunch of blue links, URLs, and descriptions.
Depending on the search query, you may also see images, videos, and other types of search results.
Here's what shows when I type in my own site's name: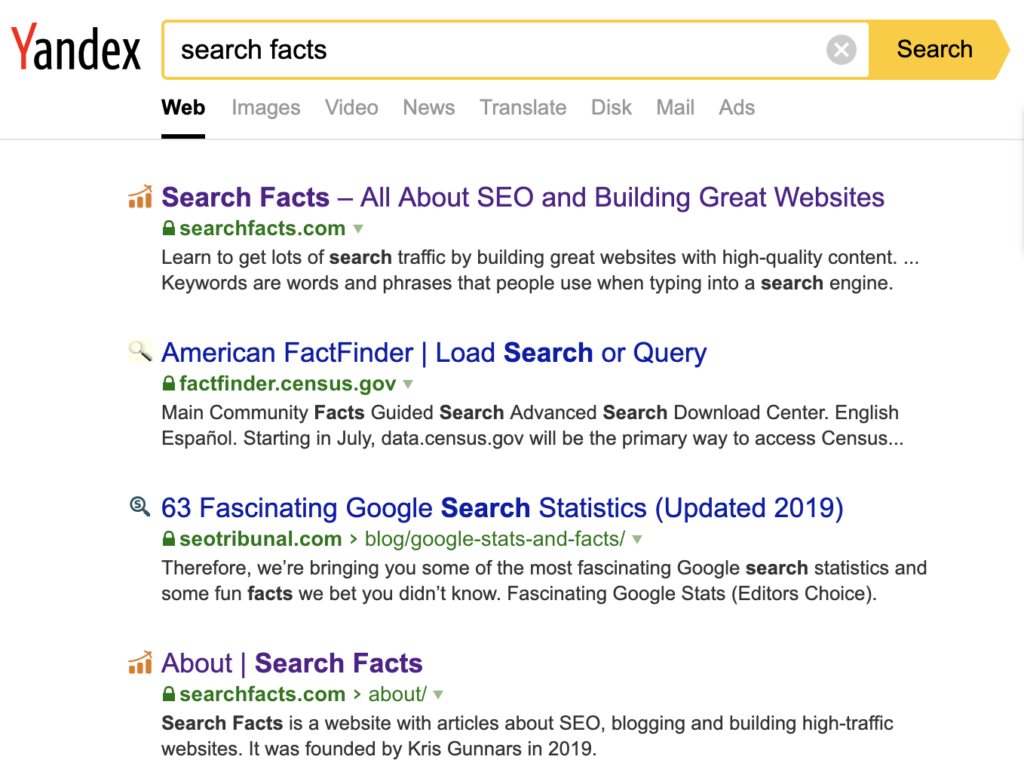 I've tried typing in numerous different search phrases and the results are usually quite good. In fact, they often return several of the same pages as Google.
However, sometimes the search results would randomly change to Russian even when I was using the international .com version. This happened for every search phrase that had "SEO" in it, for example.
Same as with Google, you can also click tabs to switch to search results for images, videos, and news.
Interestingly, if you are not happy with Yandex's results, then there are buttons to search on Google and Bing at the bottom of each search results page.

In an interview with the Yandex search team on Search Engine Journal, they said that voice search currently accounts for about 20% of searches.
Bottom Line: The Yandex search engine is similar to other popular search engines in most ways. It returns a list of blue links and also offers search results with images, videos and news.
Yandex search market share
As mentioned above, Yandex is the most popular search engine in Russia with a 48.79% market share, compared to Google's 47.88%.
Keep in mind that this figure varies based on the source. Some sources have Yandex's market share at over 50%, and most of them agree that Yandex is more popular than Google in Russia.
According to Similarweb, Yandex.ru is also the single most visited website in Russia.
However, Yandex is also very popular in many other countries other than Russia.
This includes many of the countries in the Commonwealth of Independent States, an organization of many countries that used to be part of the Soviet Union.
Here is Yandex's market share in several countries (Statcounter, July 2019):
Russia: 48.79%
Belarus: 22.38%
Kazakhstan: 21.88%
Tajkistan: 15.12%
Uzbekistan: 11.87%
Turkey: 10.67%
Kyrgyzstan: 9.61%
Turkmenistan: 6.73%
Ukraine: 5.98%
Armenia: 4.20%
Moldova: 3.40%
Georgia: 2.85%
Azerbaijan: 2.06%
In all of the countries above other than Russia, Yandex is the second most popular search engine after Google.
The high market share may simply reflect a large amount of Russian-speaking people who live or travel in these countries.
Interestingly, Yandex has been banned in Ukraine since 2017, but many people use a VPN to bypass restrictions in order to use it.
Yandex is still a relatively small search engine on a global scale with a 0.55% market share.
That makes it the world's 5th biggest search engine after Google, Bing, Yahoo, and Baidu. Yandex's global market share is similar to DuckDuckGo, which is in 6th place with a 0.54% market share.
Bottom Line: Yandex search is the most popular search engine in Russia and the second most popular in many other countries. Yandex has a global market share of 0.55%, making it the 5th largest search engine worldwide.
How Yandex became more popular than Google in Russia
Russia is one of the very few countries where Google isn't the most popular search engine.
Here are several advantages that can explain why Yandex is more popular than Google in Russia.
1. Designed for the Russian language
The Russian language is vastly different from English. Even the alphabet is different.
In Russian, each word can have up to 20 different inflections and nouns have up to 3 different genders, which also affect the other words in a sentence. This makes Russian grammar very complicated.
Because Yandex was designed specifically for the Russian language, it gives it a significant advantage in interpreting the different meanings and contexts of search queries in Russian.
2. Portal and ecosystem
The Yandex.ru home page is more than just a search box.
It is also a web portal that provides news, weather forecasts, and quick access to other Yandex services like mail and maps. This means that people go to the site for more purposes than to search the web.
In addition, all of Yandex's products and services combine to make a well-integrated ecosystem. There isn't much reason to use Google's services when you have these effective services that are optimized for Russian.
3. Android gives users the option to select Yandex
In a settlement in 2017, Google agreed to stop making Google search the default search engine in Android in Russia.
Instead, they now give users the option of choosing their default search engine when setting up their Android device.
This change led to a fast growth in market share for Yandex because many Russian users started choosing it over Google.
The chart below from StatCounter shows how Yandex's market share has developed from 2009 to 2019:
As you can see, Yandex's (blue line) market share jumped over Google's (red line) in 2017 after Google made it possible for Android users to choose Yandex when setting up their devices.
4. Many Russians don't trust American companies
Some Russians may prefer Yandex because they simply don't trust American companies. Others may choose it to support a Russian company over a foreign one.
Bottom Line: Yandex may be better at understanding Russian search queries, and it offers a full ecosystem of services. Android users also have the option of selecting it over Google when setting up their devices.
How to do SEO for Yandex
If you want to optimize your site's performance in Yandex, then you should start by adding it to Yandex Webmaster Tools.
This is a free analytics service provided by Yandex, similar to Google Search Console and Bing Webmaster Tools.
You can use this to upload your sitemap to Yandex, keep track of your performance, see crawling errors, etc.
That being said, doing SEO for Yandex is very similar to doing SEO for other search engines.
These are some of the Yandex SEO ranking factors you can optimize for:
Keywords: Same as with other search engines, you need to include keywords in your titles and text.
Search intent: Same as Google, your content needs to fulfill the intent of the person doing the search.
Content quality: Having high-quality content that answers people's search queries is crucial.
On-page SEO: Optimize your title tags, descriptions, URLs, internal links, and more.
Meta keywords tag: Interestingly, Yandex still uses the meta keywords tag for ranking purposes (Google ignores it).
Site speed: Sites that load faster rank higher in Yandex.
Mobile usability: It's important that your site functions well and looks good on mobile.
Geo targeting: The search results in Yandex may be completely different depending on the location of the searcher.
Popup penalty: Like Google, Yandex can penalize sites that have intrusive and/or misleading popups.
Crawlability: It's important that your site is not blocking robots and that it isn't hidden via a noindex tag.
Links: Inbound links are a ranking factor.
Interestingly, links may be less important in Yandex than in Google for certain types of queries.
This is because they had a major problem with link spam in Russia and decided to devalue links as a ranking factor for some commercial queries.