Yandex is often known as the Russian search engine.
It is not only the most popular search engine in Russia but also the second most popular after Google in many countries.
However, most of the countries where Yandex is popular have a large Russian-speaking population.
Worldwide, Yandex has a market share of around half a percent, which makes it similar in size to DuckDuckGo.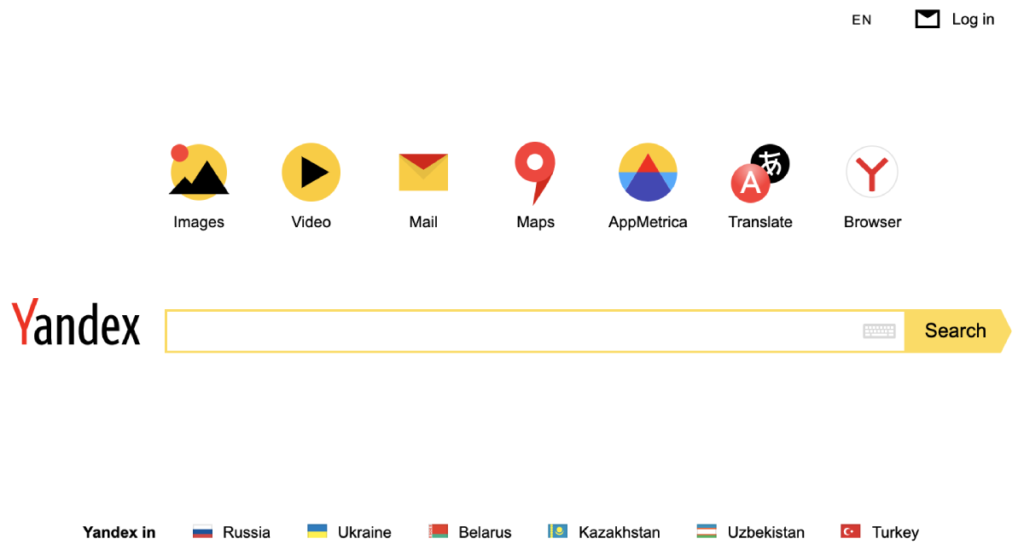 It is a good idea to submit your site to Yandex by adding it to Yandex webmaster tools. This will help you optimize your site's performance in Yandex search.
In addition, Yandex webmaster tools offers many useful reports and tools to optimize SEO generally, not just for Yandex.
For example, you can see external links to your site, broken links, crawling and indexing problems, and many others.
What is Yandex webmaster tools?
Yandex webmaster tools is a free web service provided by Yandex for webmasters to monitor their site's performance in the Yandex search engine.
You can use it to upload a sitemap, see how much traffic you are getting, get a list of indexed pages, see crawling or indexing errors, site speed problems, etc.
It serves a similar purpose as Google Search Console and Bing & Yahoo Webmaster Tools.
How to add your site to Yandex webmaster tools
To add a website, you need to create a Yandex account, then add your site and verify that you own it.
Here are the steps to quickly submit your site to Yandex Webmaster Tools:
Go to this web page: https://passport.yandex.com/registration
Fill in your details to create a Yandex account, then click "Register"
Next, go to: https://webmaster.yandex.com/
Either log in or click "Go"
Click the "+" button or the "Add Site" button
Enter your site's main URL and click "Add"
Copy the verification code inside the content part (without the quotes)
Go to your site and enter the verification code in your SEO plugin
Now go back to Yandex Webmaster Tools and click "Check"
Keep reading for more detailed instructions on how to do this, with screenshots.
Step 1 – Create a Yandex account
You need to have a Yandex account to add a site to the webmaster tools.
To create an account, go to this page: https://passport.yandex.com/registration
Now fill in your details (name, username, password, etc.) and click the "Register" button.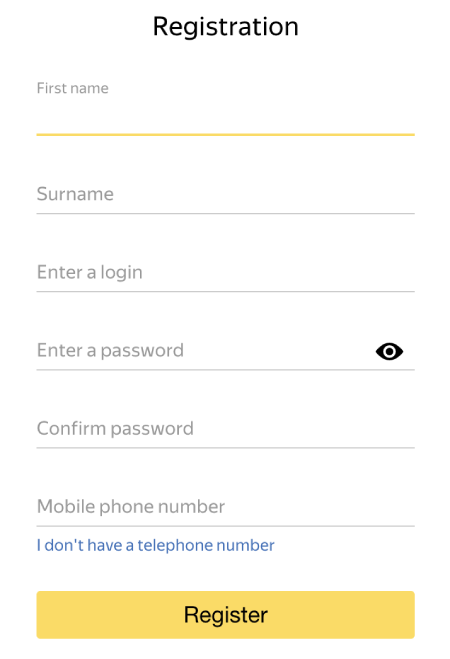 Yandex wants you to add a phone number to make it is easier for you to recover your account later if you forget your password.
However, it is possible to skip this and use a security question instead.
Step 2 – Add your site
Now that you have a Yandex account, you can log in to Yandex webmaster tools to add your site.
Go here to access Yandex webmaster tools: https://webmaster.yandex.com/
Log in if needed, then click the "Go" button. Now you should see the page where you can submit your site.
Next, click the "Add Site" button, or the "+" button at the top.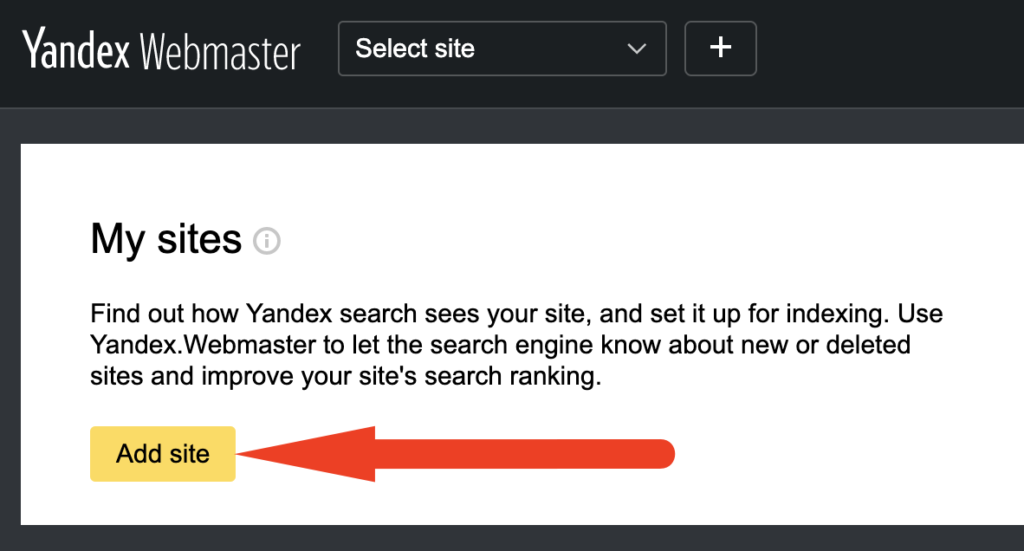 Now you are prompted to add your site's main home page URL. Make sure to include the correct version, including http/https and www if you are using it.
For my site, I have https enabled, but I don't have a www subdomain. So I include https but not www.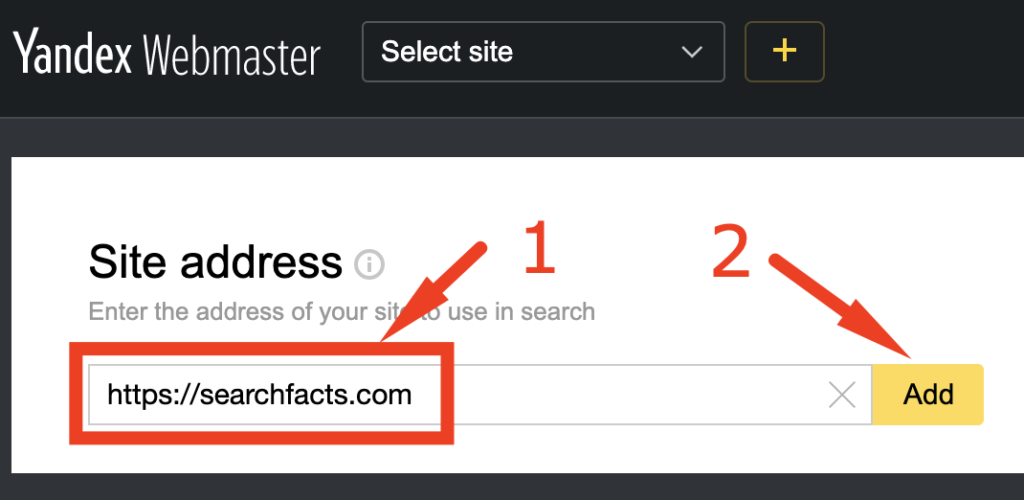 When you have entered your site into the form, click the yellow "Add" button.
Step 3 – Verify your website
Next, you need to verify the website to prove to Yandex that you are the rightful owner.
Yandex webmaster tools give 4 options to verify:
Meta tag: Add a html tag to the head section of your site.
HTML file: Upload a html file to your site's root directory.
DNS Record: Add a TXT record to your DNS settings.
WHOIS: Add and verify your WHOIS email via Yandex.Passport.
The meta tag option is very simple if you are using an SEO plugin in WordPress.

You simply copy the text inside the content="" part of the meta tag (without the quotes) and enter it into your SEO plugin.
If you are using Yoast SEO, then go to your WordPress Dashboard -> SEO -> General -> Webmaster Tools.
Then paste the verification code into the box for Yandex Webmaster Tools.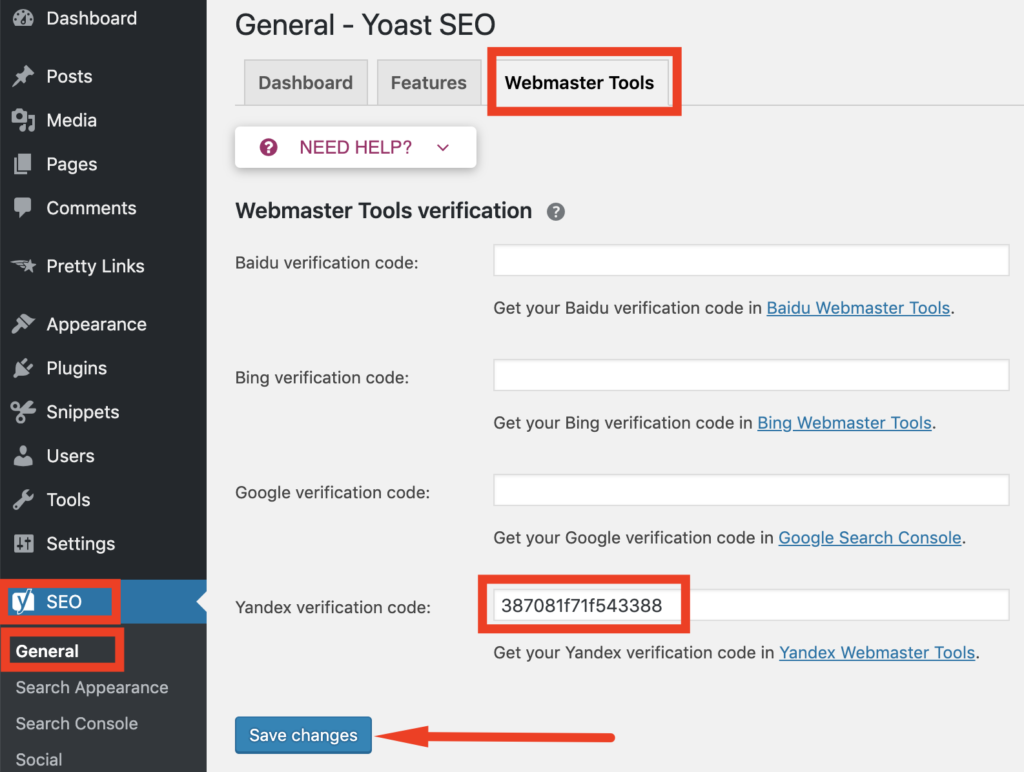 You can also do this with most other good SEO plugins, like the SEO Framework (which is a much better SEO plugin than Yoast).
Now go back to Yandex webmaster tools and click the yellow "Check" button.
If the verification works, you will get a confirmation that your site is verified. If it doesn't work, clear your site's cache and then try again.
Congratulations! You have now added and verified your site in Yandex webmaster tools.
Next: Add a sitemap, set geotargeting
It can take a few days for the dashboard and reports to fill with useful data.
In the meantime, you should do these two things right away to optimize the performance of your site.
1. Add your sitemap
Adding a sitemap will make it much easier for Yandex to find all the pages on your website.
When you are inside the Yandex dashboard, take the following steps to upload your sitemap:
In the left sidebar, click "Indexing"
Click "Sitemap files"
Enter your sitemap URL
Click "Add"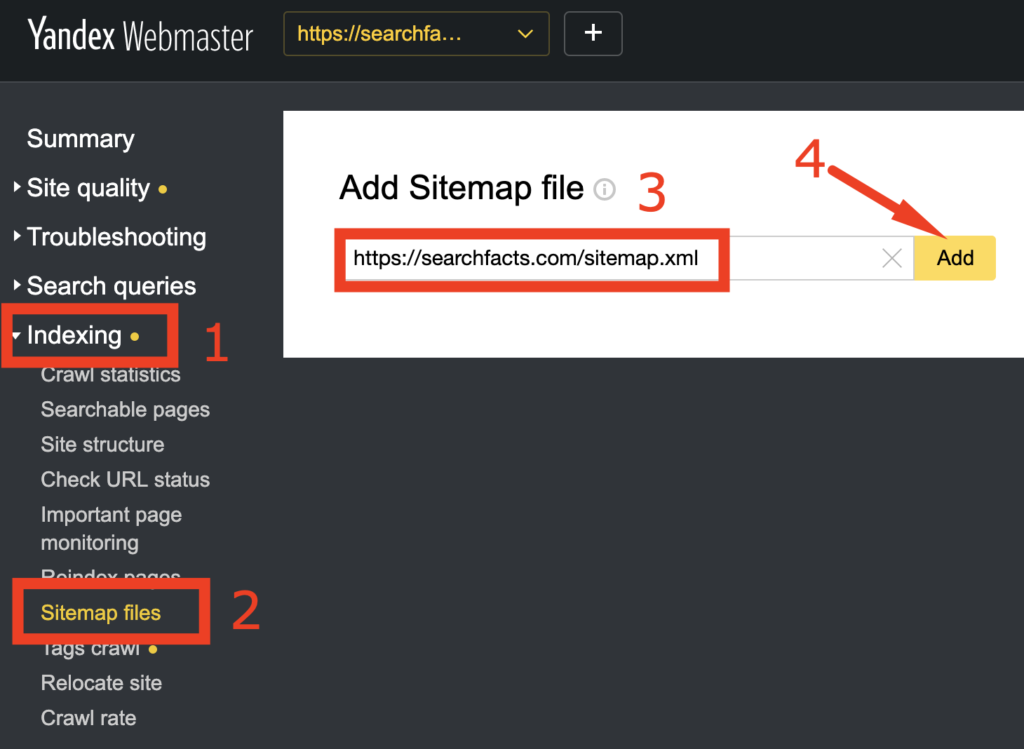 The sitemap will go into the processing queue, which can take a few days.
2. Set your geotargeting
Yandex's search results change drastically depending on the location of the searcher.
If you have a local business, you should make sure to tell Yandex which geographical area you are targeting.
If your website targets a global audience (like mine), then you can tell Yandex to disable geotargeting.
You can set your geotargeting options under Site Information -> Region. If you don't want geotargeting, click "No geographic targeting."
Here are instructions from Yandex about how to implement geotargeting correctly for your site.
Check back in a few days
There is nothing left to do but wait.
You should log in to Yandex webmaster tools in a few days to see whether the reports have started showing useful data.
Some interesting reports to check out include:
External links
Internal links
Site quality indicators
Search query statistics
Crawl statistics
Then there are many other reports and tools available, some of which are very helpful for SEO.