"Two SEOs walk into a bar, a sports bar, a pub, an Irish pub, a sports bar near me…"
The lame SEO joke above makes fun of the fact that SEOs have to create a page for each keyword variation that they want to rank for.
The process is tedious and sometimes downright annoying, but the discipline to do tedious work is what makes SEOs successful.
This guide is intended to give you the (relatively) simple rules to win in the local search results—but it is up to you to be a "better SEO" and act on these rules more than your competition is willing to.
When you search for something in Google with a local search intent, you've surely come across the local map pack as well as local search listings: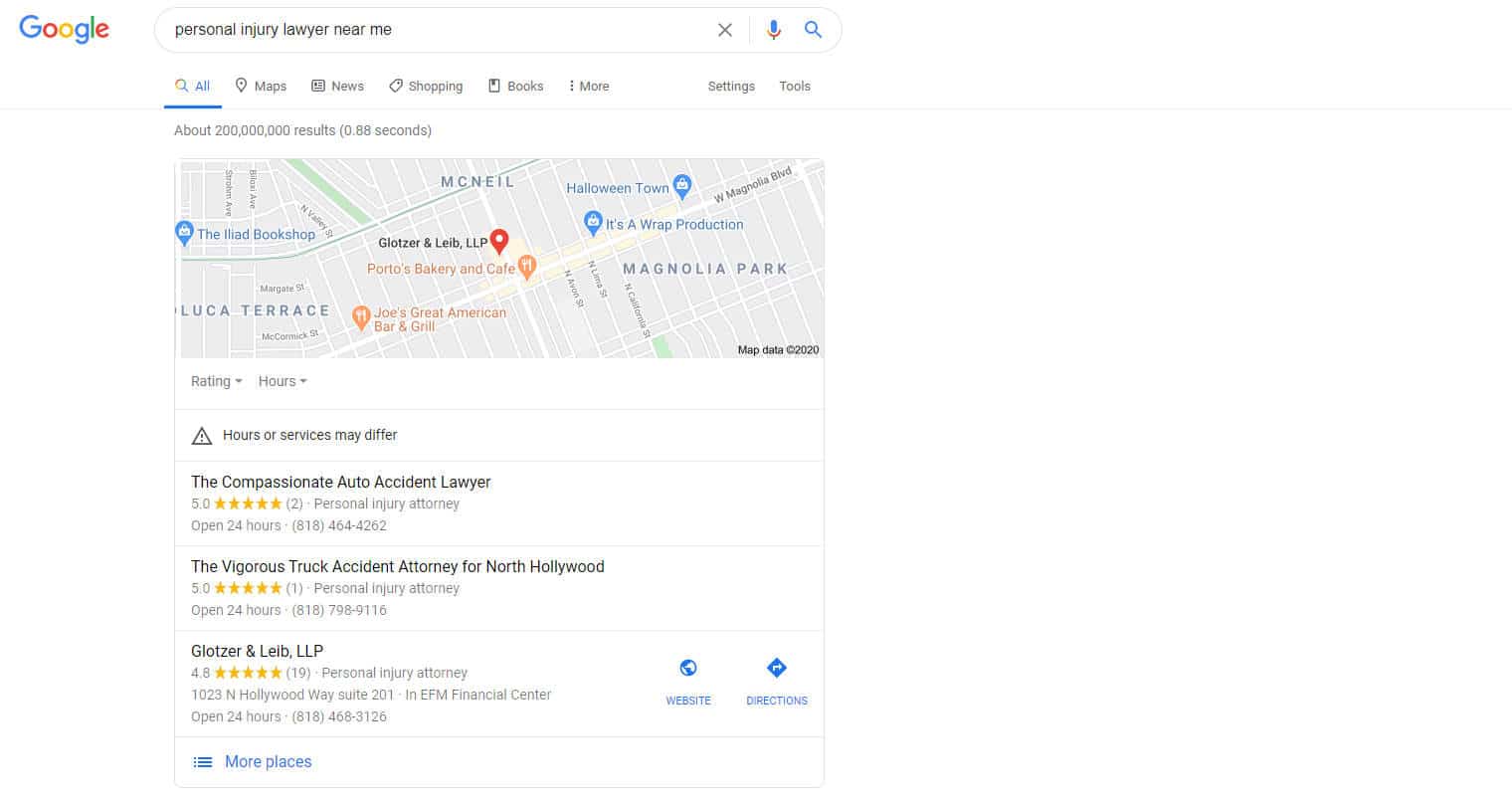 While ranking in the local map pack may seem like a "black box," there is a set of factors Google looks at when determining which listing to show.
This guide breaks down Google's local ranking factors and actions you can take to improve your rankings in the local search results.
There are 4 primary local SEO strategies to win in local search:
Submit Data to Data Aggregators

Optimize Local Landing Page

Create Business Profiles and Listings

Acquire Ratings, Reviews and Check-Ins
Let's look at these in local SEO more detail.
1. Submit your NAP (name, address, and phone number) to the following data aggregators:
This is the first place you should start, as Google relies on these data aggregators for its local search listings.
A "data aggregator" is exactly what it sounds like—there are platforms which collect large amounts of business listing data which Google has deemed "reliable."
This is similar to how Google has deemed Wikipedia's introductory paragraph as reliable enough to pull into the search results.
The more it finds your information correctly listed, the more confident Google becomes that your information is correct.
Just to give you an idea of the potency of this step, if claiming a business listing in a local directory is worth "one SEO point," then submitting your information correctly to these data aggregators is worth 10+ points.
2. Areas of focus for local landing page optimization:
According to SEO expert Steve Wiideman, "There are easily a dozen focal points Google and other search engines will analyze on your local landing page when it determines how relevant the page is to a location-based search query."
Below are some of the most important focal points:
Exceptional user experience (UX): 
Obsessing on the user experience of your site.
This requires an honest comparison between you and your competition, ensuring that the page answers the search query of the user, and keeping the user from hitting the "back" button to return to Google. 
Mobile & browser optimized:
Ensuring that the content on your site looks exceptional on mobile, tablet, and desktop, as well as each different type of browser.
Don't assume that everyone's device and browser is the same as the one you're editing the site from—you'll need to check what other people might be seeing, especially the most common devices and browsers. 
Fast-loading for slower devices:
Ensure that images are optimized—lowest image size possible without compromising quality.
Spend the extra money on a faster hosting platform, consider using Cloudflare as your DNS to improve "time to first byte." Plug in your domain to Google's PageSpeed Insights tool for more load time optimization ideas. 
Google Maps and directions:
Include Google Maps and directions on your local landing pages so that users don't need to leave your website in order to find how to get to your location.
Take Applebee's local landing page, for example:
Storefront and interior images and 360 virtual tour (optional):
For the best user experience, consider taking professional photos within your store and creating a "360 degree virtual tour."
Google's Street View tool can connect you with a local agency—the cost is usually a couple hundred dollars, but could prove to be worth the investment if showcasing your business's interior is important to you. 
Keyword usage and prominence:
To be clear, better content and user experience wins over time. Period. However, for "money" pages, content can only be so compelling.
On your local business listing landing page, place keywords naturally and prominently within the most important HTML elements on the page.
The most important elements to include your keywords are:
The page's title tag (aka Title)

The page's Heading 1 (H1)

The page's Heading 2s (H2)
Each page should have one "focus keyword," with the most searched for version of the keyword placed naturally within the title tag of the page, 2nd highest keyword variation placed within the H1, with the 3rd+ most searched for keyword variations in the H2's.
Roughly 3-5 H2's are recommended. 
Sitemaps:
A sitemap is a list of all pages on your site.
Create and upload an XML sitemap to the root of the domain using an FTP solution such as FileZilla, then submit the URL where the sitemap is located to Google Search Console (usually /sitemap.xml).
Plugins such as Yoast will automatically add new pages taken live to the sitemap. 
Smart internal linking:
There is a great emphasis placed on getting external links pointing to your site, but internal linking to your own content is also very important.
Whenever a new page goes live, that page should internally link to other pages wherever applicable, and existing pages should link to that new asset. 
The anchor text (or visible text linking to the page) should function as a doorpost telling Google the name of the room they are about to enter. The anchor text should therefore be the keyword that the page is intended to rank for. 
Structured data (schema.org):
Google recommends marking up content with "structured data" telling Google bots information about the content on your page.
Common types of structured data include:
breadcrumbs (think Hansel and Grettle telling you which path you came down to get to the page you are on)

the date an article was posted on

the author of an article

the prices of products

data about specific rich media (such as videos)

other recent additions (such as marking up FAQs and reviews)
Be sure to update hours when appropriate:
This is pretty straightforward, but keeping information up to date on your website and your Google My Business listing is essential to a positive customer experience and building trust with Google. 
3. Accrue citations of the business's name, address phone number, and website on the following platforms (and correct any incorrect information):
Google My Business

Apple Maps

Yahoo! Local and Bing Places

Nokia HERE and MapOuest

Yelp, Facebook & Foursquare

Local/regional web directories

Internet yellow pages

Industry web directories
Be sure to research local business directories and niche-specific directories since these will provide the most citation value long term. 
4. Acquire Ratings, Reviews and Check-Ins:
Create a review acquisition and monitoring program

Include a point of sale program (on receipt) as a part of review acquisition 

Incentivize reviews through coupons and free product, but be careful to not offer to pay for only good reviews

Post native reviews on your website and social media to encourage more reviews

Create a suppression plan for bad ratings

Consider directing feedback that is likely to be negative to an internal reviews/complaint system. This lowers the chance of the negative review being published on a third-party platform

Have a loyalty/rewards program to incentivize customer check-ins
Local SEO Guide Conclusion
"SEO is not about doing extraordinary things. It's about doing ordinary things extraordinarily well." — Rand Fishkin, Founder of Moz
Like this article began, the fundamentals of SEO are relatively simple to understand, but the rigor and drive necessary to implement the above recommendations is what is necessary to win in the local search results.
By following the above 4 action items, I believe you'll see a return on your time invested be greater than just about any other marketing endeavor. 
In my experience, I expect you'll see some progress within a few weeks, but that a full SEO strategy doesn't really come together until one-to-two years have passed.
Be patient, remain steadfast, and remain confident that you will win long term by following the simple guidelines laid out in this guide. 
Ultimate Local SEO Guide Infographic