In online marketing, the term "social proof" refers to a way to show visitors that your website is popular and trusted by other people.
When people see evidence that many other people like your site, then they are more likely to trust it and stick around.
But if a site looks like it has no viewers or engagement, then people are more likely to leave before consuming the content.
Here are 8 simple ways to display social proof on a website or blog.
1. Comments
One of the simplest ways to show social proof is highlighting that you get a lot of comments on your articles.
For example, Brian Dean's Backlinko gets a lot of comments on blog posts — sometimes hundreds.
He shows the comment number for each post on his blog page. This makes it obvious to people who are browsing through that many people have read the posts.

The fact that he has so many comments is not an accident. He answers every single comment left on his site and actively asks for comments when he sends emails to his newsletter.
By getting a lot of comments (and social shares), it's hard to miss that his site is popular.
Another site that gets a lot of comments is Glen Allsopp's Detailed.com. He highlights the comments below the titles of his posts, which shows strong social proof.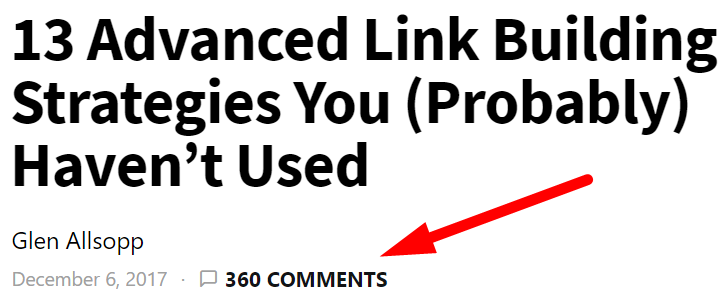 2. Social shares
Having a high amount of social shares is another common way of showing social proof.
It shows the reader that a lot of people have already shared the content. This may increase the chances of even more people sharing it.

Would you rather share an article that is "proven" to be popular or something that has no evidence of engagement?
3. Follower or subscriber count
Having a lot of followers or subscribers is a useful metric to show people to prove that the site as a whole is popular.
On my old nutrition site Authority Nutrition (sold in 2017), I highlighted the fact that the site had over 2 million followers right in the sidebar:
This kind of number is easy to fake, and people know it. So, make sure that people can see other evidence of popularity if they look around.
4. Page views counter
It is possible to show readers the number of page views each article has gotten.
This is something I do on this website, showing the number of page views in the byline below the title.

This metric looked much more impressive on my old nutrition site, which often had millions of views per article.

You can use a WordPress plugin called Google Analytics Post Pageviews to show the page view number according to Google Analytics.
5. High total traffic
High-traffic websites often highlight their total traffic numbers to show social proof and make people realize that they are popular.
Healthline, which is the world's most popular health website, shows their traffic number on their about page.

If your website or blog gets a lot of traffic, then it often makes sense to tell people about it.
6. Brands you've been featured on
If you or your company has been mentioned or featured on high-authority websites, then it can help increase trust to tell readers about it.
When you see a list of brand icons on the landing pages of websites, this is usually done for social proof.
Many authors also mention that they have published articles on various high-authority websites on their author pages.
Some sites that sell products or services also list well-known companies as customers on their website.
7. Testimonials
Showing testimonials from other people is a compelling way to show social proof and increase trust.
When people see that others say good things about a website, product, or service, then they are more likely to subscribe or purchase.
For example, Kinsta (my favorite web hosting company) highlights some of the many 5-star reviews they have gotten on their home page.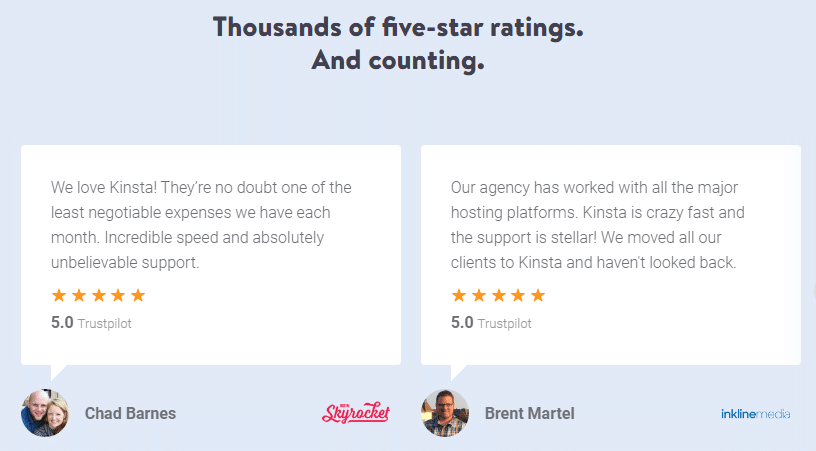 8. Customer reviews
If you sell products, then customer reviews are among the most powerful ways to increase sales and conversions.
When shopping online, the product reviews are often the main thing people look for when deciding whether to buy something.
If your site sells products or services, then it makes sense to get reviews from as many customers as you can.
One good method is to email your customers 1-2 weeks after they bought or subscribed and ask them to send you a testimonial or leave a review.
Takeaway
When people land on your website for the first time, they often make a split-second decision about whether to trust the site.
Having elements of social proof can help show first-time visitors that other people like your site. When they see evidence of popularity, then they are more likely to stick around.