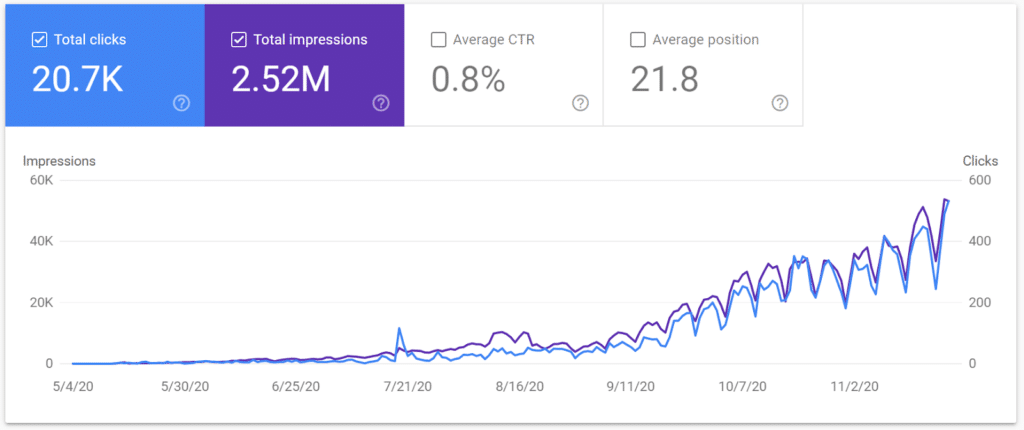 Finance Strategists is a finance website dedicated to teaching people finance.
The way it makes money is through generating leads that can then be resold to wealth management firms.
We've worked with lots of companies and have always felt slightly hindered by management shutting down ideas, dev cycles taking forever to update the website, budgets shutting down things which were necessary to invest in, etc.
Finance Strategists is and was 100% our own project.
We were able to achieve 10k+ monthly organic traffic in under 6 months.
The advice found on Search Facts as well as hiring our SEO team can help you do the same.
Our Performance
We purchased the domain on March 21, 2020: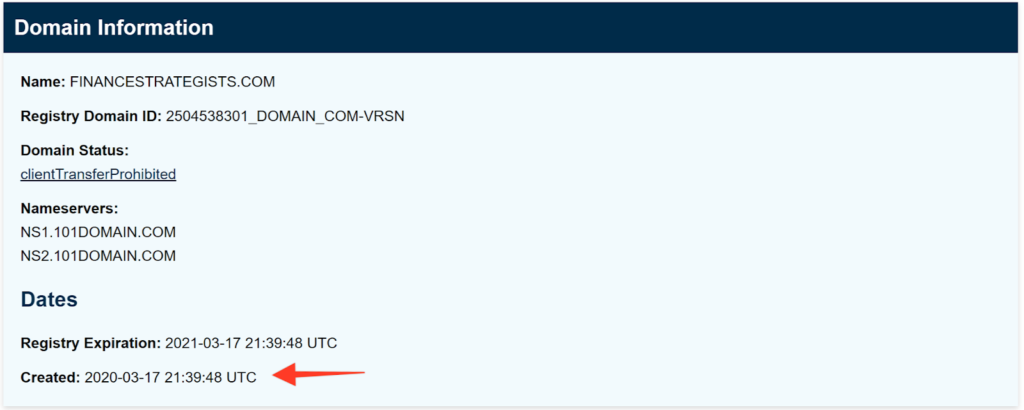 We added the site to Google Search Console on May 4, 2020:

We broke 350+ visits/day (333 * 30 days = 10k monthly) on October 19, 2020 (5 months and 15 days after it was added to Search Console):

The site currently does not receive a majority of its traffic through the "parent" term like we expected (example: "assets"). Instead, a majority of the traffic comes from longtail keywords (example: "types of assets").
Here are some of the top keywords the site receives traffic from: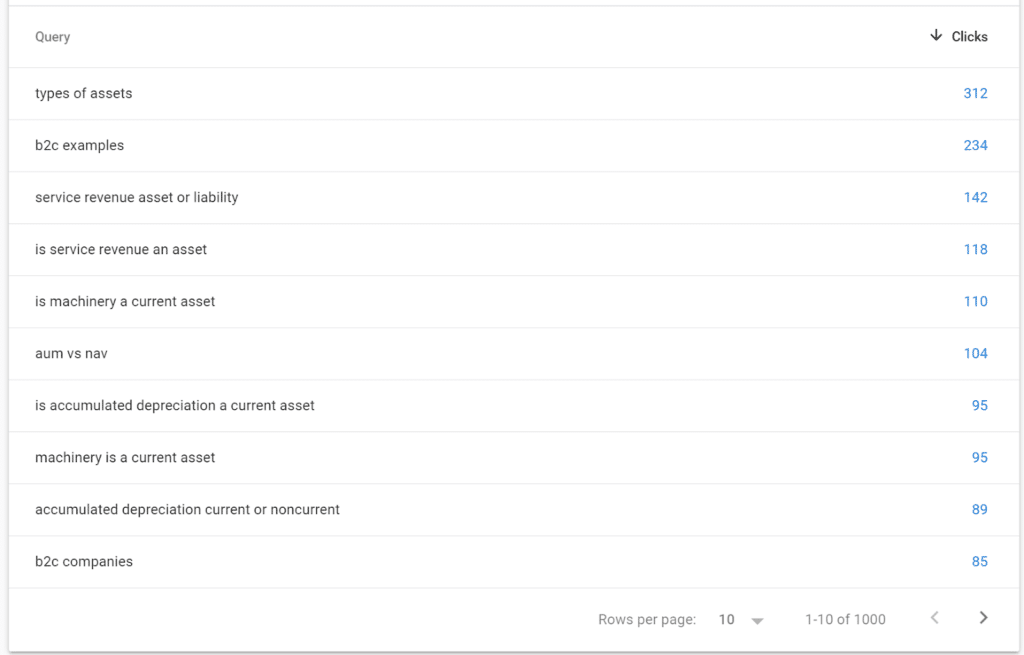 The site continues to grow organically, and because we chose to write on evergreen content, the site should continue to appreciate over time.
How We Did It
We looked at who was "winning" in the finance space—it was Investopedia at 100+ million monthly visitors.

In addition to having the most traffic, Investopedia ranks #1 for "financial advisor" — the #1 keyword we would like to rank for long term.
Investopedia's model is high-quality finance definitions with easy-to-understand animation videos.
As an overall strategy, we decided we would do the same.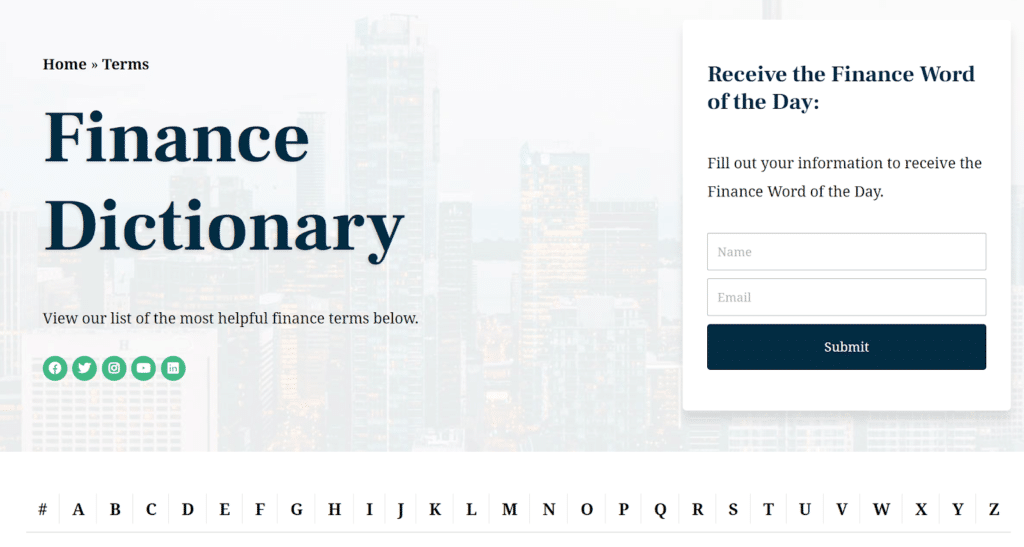 Not surprisingly, creating these high-quality definitions and animation videos was difficult to do.
However, the value of the traffic is extremely valuable if you succeed.
The takeaway here is to be realistic about what it costs to rank for keywords your company would like to rank for.
Longtail Keyword Strategy
We determined that, while Investopedia has written a definition for every finance term, they did not "fill in the holes."
There were a lot of specific questions with high search volume —  we went after these terms and won, which gave us a lot of our traffic initially.
Here's a screenshot of a longtail keyword, "is machinery a current asset" (a sub-topic to our "current asset" definition):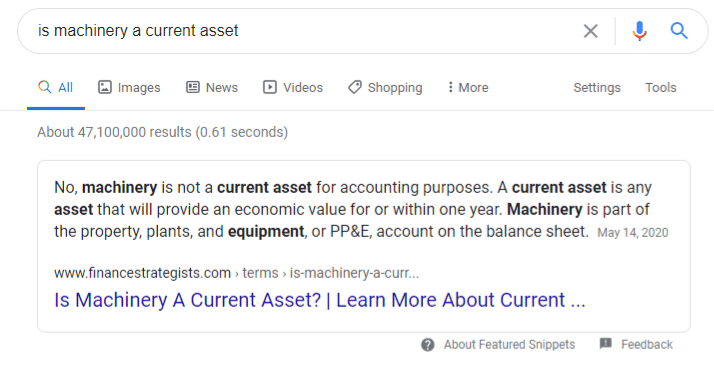 Over time, we began ranking for more competitive, higher search volume terms like "bond principal":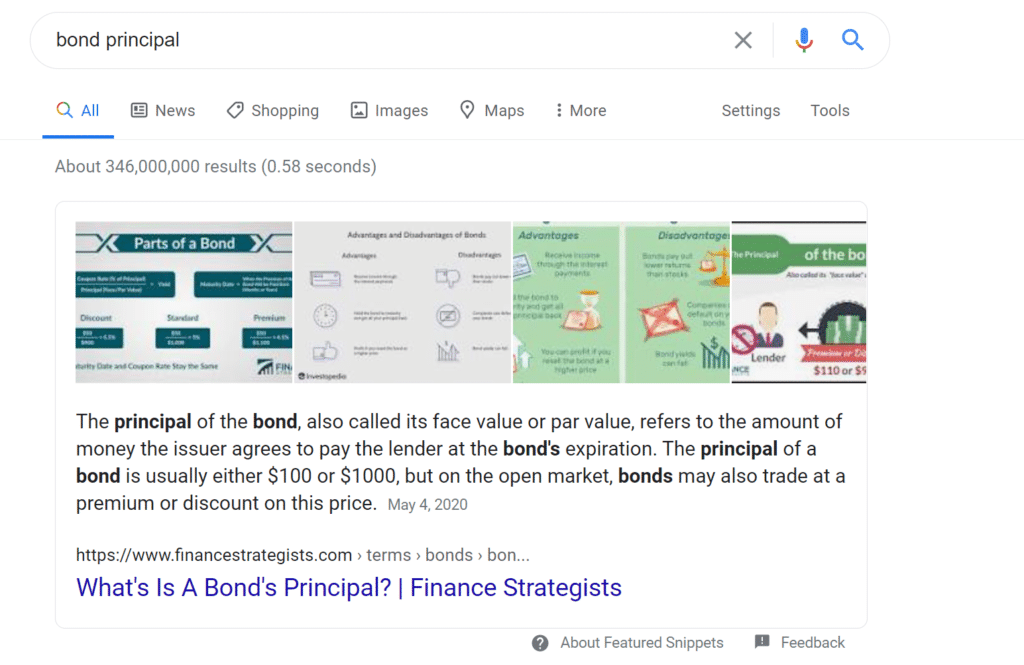 Now the site has many of its pages slowly making its way to page 1 of Google for the parent topic.
Backlink Strategy
We also created a complementary backlink strategy, which a finance dictionary was particularly useful for.
Because the content was both of a high enough quality and relevant enough, backlink outreach proved to be particularly effective for this project.
We acquired more than 300 unique referring domains in under 6 months:

Here is a screenshot of Finance Strategists' overview in Ahrefs:

Here is a screenshot of a response we received asking for a link to our Work In Progress definition.

"We looked at your resource and think that it would be a great addition to our blog."
This is only possible if you create extremely high quality content and perform hyper-targeted outreach highlighting natural places to link to a resource of yours.
In addition to that backlink strategy, we did outreach offering to highlight founders of companies on our website.
We still have a section on the site called "Founder Spotlights" (found under "Interviews" in the menu navigation). The founders would in turn link to their interview hosted on Finance Strategists.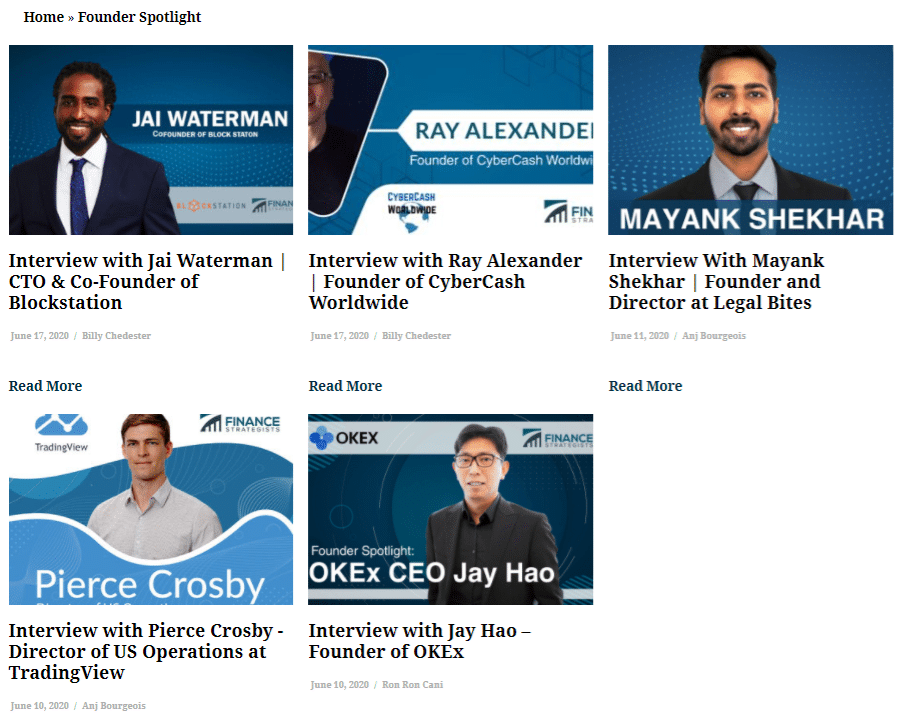 Ranking For "Money" Keywords
Now that the website is at a place where the site has the potential to rank for more competitive, "money" keywords, we are now in the process of building out a location page for every major financial services offering (financial advisor [city], wealth management [city], certified financial planner [city], etc.).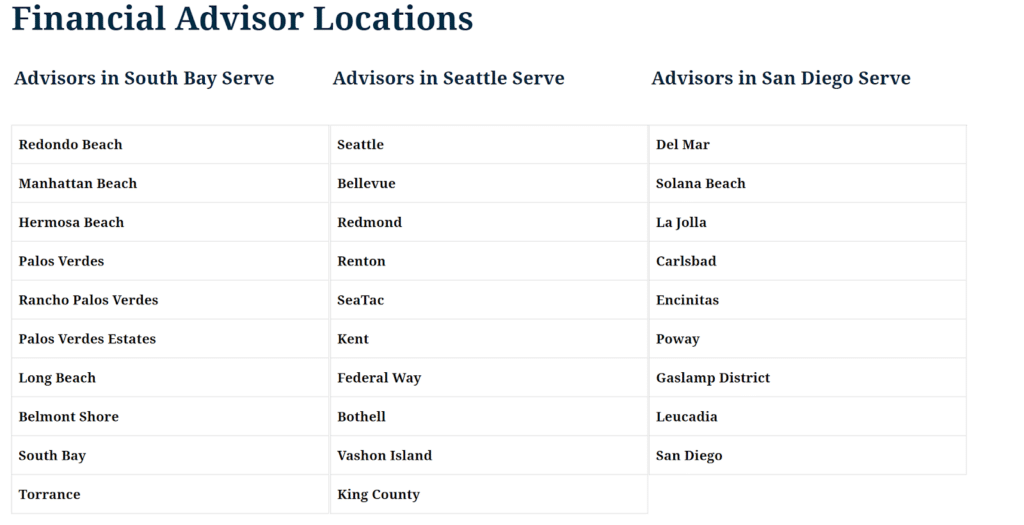 These "money" pages are where a majority of the site's value will come from. But first, we needed to acquire natural links from other sites which discuss finance which required the buildout of the finance dictionary.
What We Focused On
We believe you need high quality content in order to attract natural links, and you need natural links in order for your money pages to rank well.
Most websites fail because they only create money pages and do not take the time to create high-quality content.
This, in turn, causes sites to cut corners and acquire spammy links because they are unable to attract them naturally.
In addition to creating excellent content, we focused on the following:
1. Improving E-A-T (Expertise, Authority, Trust):
We've written a full guide giving you 10 actionable steps to follow to improve your Expertise, Authority, and Trust. We followed these and saw a marked improvement in both impressions and clicks.
Some of the tips included:
Have good bylines
Create good author pages
Have a robust about page
Show clear and accessible contact info
Have all the necessary legal pages (privacy policy and terms of use)
Get links from relevant high-authority domains
Have content written or reviewed by credentialed experts
Cite authoritative references
Don't go against the general consensus too much
Manage your online reputation
2. Increasing Our Page Speed:
Having fast load times is essential to ranking well in Google. Using Google's PageSpeed Insights, we obsessed over improving our load times. The common issues we faced were:
Reducing Time to First Byte (TTFB)
Reducing the time to First Contentful Paint (FCP)
Reducing the time to Largest Contentful Paint (LCP)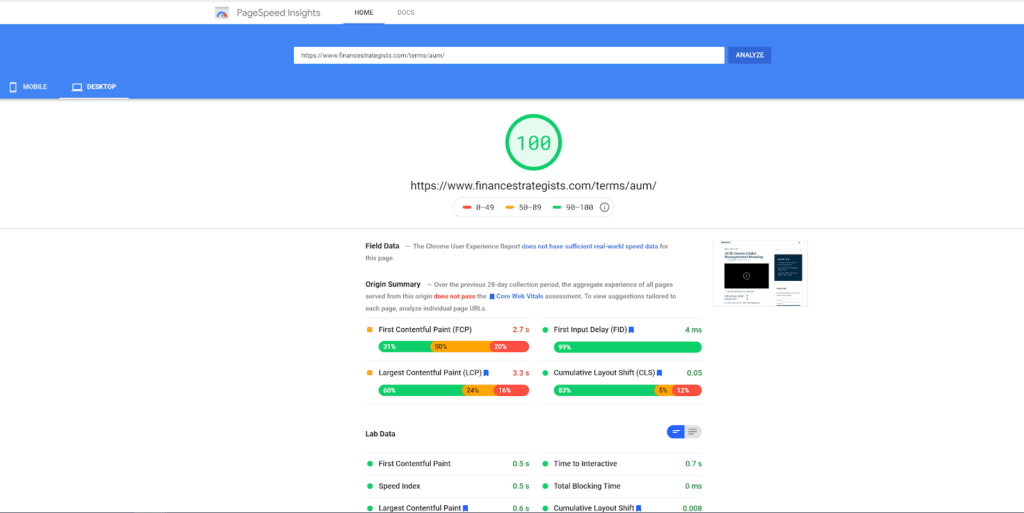 3. Assembling a Phenomenal Team of Writers: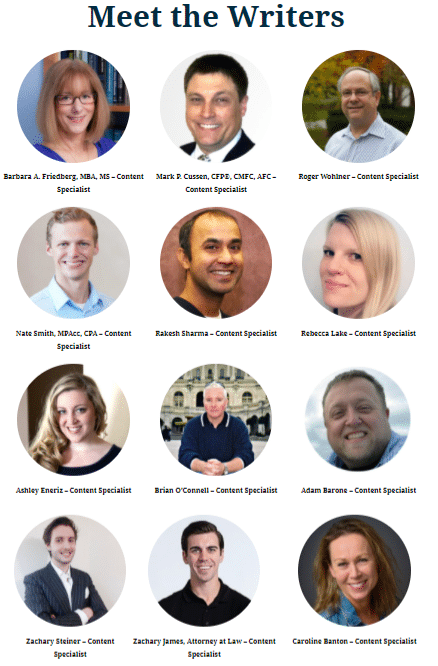 We used our outreach team to assemble a phenomenal team of writers. Our writers have been regular contributors to:
Investopedia
CNBC
MarketWatch
Fox Business
Bloomberg
Wall Street Journal
TheStreet
Forbes
Yahoo! Finance
Huffington Post
U.S. News & World Report
This was partly to improve our E-A-T indicators, but it was largely to help us accomplish our goal of creating the best resources on the internet.
The #1 most important "ranking signal" is simply whether or not your page is better overall than your competition's page. This includes the content as well as the overall user experience.
4. Implementing Schema Markup, Specifically FAQs:
Schema Markup (also known as "Structured Markup") is telling search engines what's what on a page.
It is code you add to the page that defines objects like, "The author is _____" or "There is a video object on the page with the following title: ___________."
While all Schema Markup is arguably important, the most important markup in our opinion was the FAQ Schema Markup which pulls questions on the page into the Google Search results.
Which of these are you more likely to click on?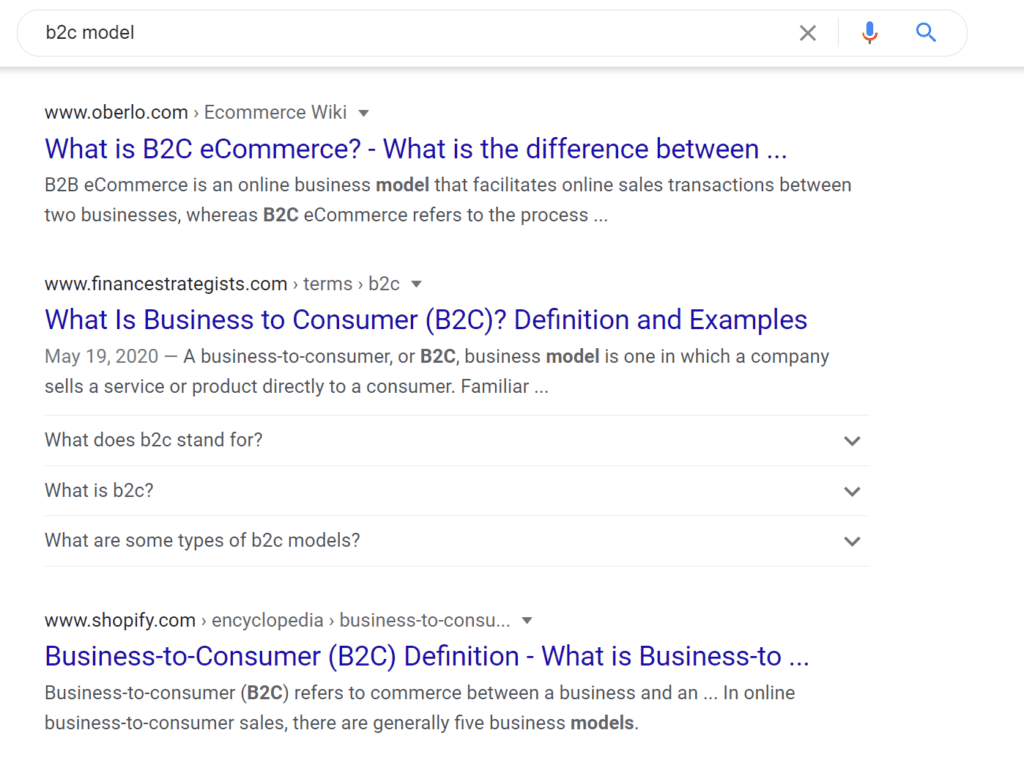 Having FAQ's pulled into the SERPs creates robust answers that simply take up more real estate. Some studies have shown that having FAQ's pulled in have improved click-through-rates by up to 50%.
Looking Back
Looking back, money spent on animated videos could probably have been better spent on hiring better writers from the beginning, as well as adding helpful graphics throughout the articles.
Google's job is to determine which page is the best resource on the entire internet to answer a user's search query—while videos are a nice touch, it is possible to win with flawlessly written content. In terms of getting the most bang for our buck, we probably would have doubled down on producing flawless written content.
In terms of our performance, we were surprised that we weren't getting impressions for any of the broad terms (meaning, parent topics)—we would either get page 2 for the broad term, or nothing at all.
There were some exceptions, but it was generally the case that we weren't seeing a lot of impressions from the parent topic unless we ranked on at least page 2.
Check out this screenshot of our "year over year" definition ranking for the term "yoy":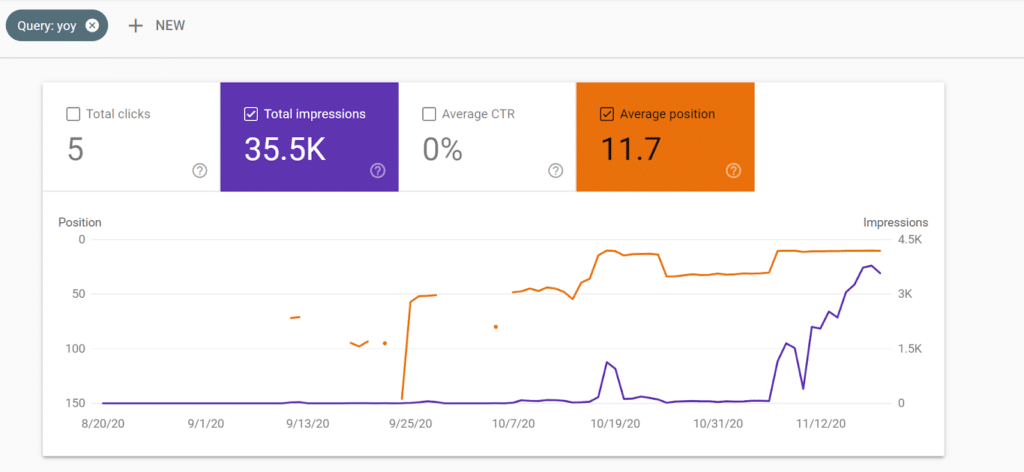 We were tested out, then dropped off, then put back in at the bottom of page 1 / top of page 2. Once we were at position 10 or so, we started receiving an impressions every time "yoy" was searched.
Hire Us
Search & Rescue (the SEO agency for Search Facts) is looking to help clients that are prepared to create fantastic content that answers people's questions, delivered through a great website with an amazing user experience.
If you're prepared to do what it takes to win in the search results with the Search and Rescue team by your side, fill out the form on this page to start a conversation.